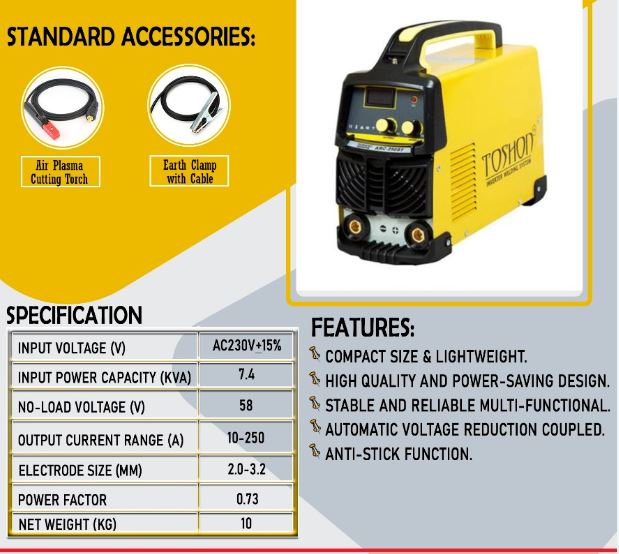 Sale
Description:

TOSHON MAKE SINGLE PHASE(220V) 250 AMPS MOSFET TYPE INVERTER BASED ARC WELDING MACHINE
SUITABLE FOR UPHOLSTER INDUSTRY,HIGH ATTITUDE,FIELD OPERATION
Features
Compact size & lightweight.
High quality and power-saving design.
Smooth and stable welding performance with minimal spatter.
Automatic overvoltage, overcurrent protection.
MMA machine, Scratch TIG function optional.
Welding current and arc force current can be adjusted manually.
Easy arc-starting, minimal spatter, stable current, and good shaping.Automatic overvoltage and overcurrent protection.
Standard Accessories
ARC HOLDER WITH CABLE
EARTH CLAMP WITH CABLE

| | |
| --- | --- |
| Rated Input Voltage(V) | AC 230V + 15% |
| input frequency | 50/60Hz |
| Rated Input Power (KVA) | 7.4 |
| Output Current Range | 20~250 |
| No-load Voltage(A) | 70 |
| Duty Cycle % | 60% |
| Efficiency(%) | 85 |
| Power Factor | 0.93 |
| Protection Class | IP 21 |
| Insulation Class | F |
| Size (mm) | 480*230*360 |
| Weight(KG) | 10 |