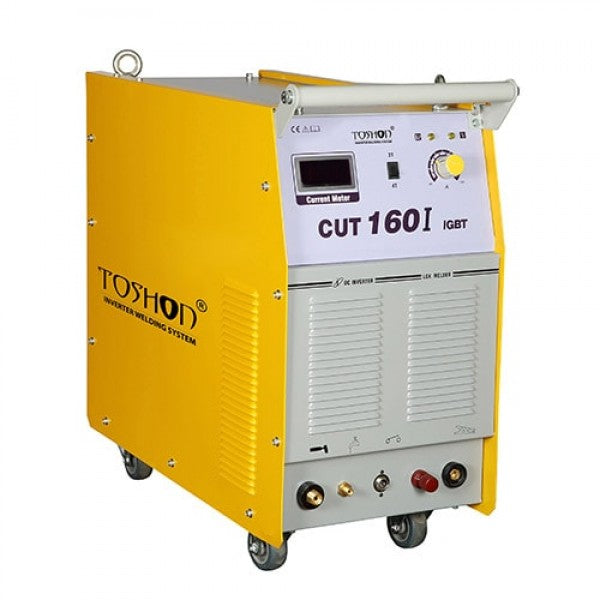 Sale
CUT 160 I IGBT
Description
Adopt advanced MOSFET inverter technology, using non-crystal core and power units. Reliable, portable, light, and high efficiency.
Features
Optimized Layout Structure Design with High Inverter Frequency & High Duty Cycle; Substantial Energy Consumption Savings.
Smaller, Lighter, and Easy to Carry on; Especially Adaptable to the Welding Application in the Field Operation.
It is featured with high-ignition rate, high arc voltage, energy concentration, strong cutting ability, quick cutting speed, slim cutting line with smooth cut surface and tiny deviation in shape; stable voltage in big cutting current; especially adaptable in cutting the thickness plate, its cutting speed is much quicker.
Capable of cutting the metal in any direction and shape.
Digital Display, Cutting Current can be continuously adjusted with a clear and accurate reading.
Built-in over-heat, over-current, over-voltage, and less-voltage protection circuits, safe in operation.
Adaptable to the welding application on the metal of carbon steels, stainless steels, alloy steels, aluminum, copper, and so on.
Standard Accessories
A141 Hand Cutting Air Plasma Torch
Earth Clamp With Cable
Air Filter
Hose
Hose Clamp
| | |
| --- | --- |
| Parameter: | CUT 160 I - IGBT |
| Parameter model | Cut 160 I 3PH |
| Input Voltage (V) | AC415V±10% |
| Frequency (HZ) | 50/60 |
| Rated Input Current (A) | 44.3 |
| No-load Voltage (V) | 320 |
| Output Current Range (A) | 20-160 |
| Rated Output Voltage (V) | 144 |
| Duty Cycle (%) | 60 |
| Input Power Capacity (KVA) | 29 |
| Arc Ignition | Transfer |
| Efficiency (%) | 85 |
| Power Factor | 0.93 |
| Insulation Grade | F |
| Housing Protection Grade | IP21 |
| Air Pressure (KG) | 4-6 |
| Cutting Thickness (mm) | 1-40 |
| Net Weight (kg) | 60 |
| Dimension (inch) | 760*360*700 |