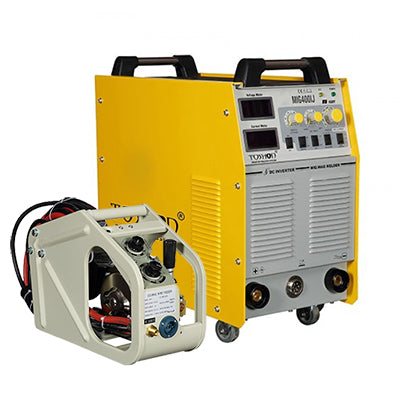 Sale
MIG/ARC 400 Moulder IGBT
Description
Adopting IGBT inverter technology, Easy Arc-Starting; Reliable and stable performance. Closed-circuit feedback, constant output of voltage, suitable for a wide range of voltage (+-15%). Controlled by the electronic reactor, little spark, deep welding pool, nice welding seam. Slow wire feeding during arc starting, remove the ball at the end of the welding wire.
Features
High efficiency and energy savings; its power usage efficiency is up to 80 - 85%, its power factor is up to 0.93, and the energy consumption saving is up to 1/3 in total by comparison to the transformer welder.
Digital display, current & voltage preset function.
Continuous adjustment function of the welding current & voltage with a sufficient wide adjustment range.
Capable of forming a good seam shape on the opposite side while making a backing weld.
Adapted an instant wire feeding circuit design, much more stable in wire feeding, capable of achieving highly stable wire feeding.
Standard Accessories
MIG Gun
ARC Holder With Cable
Earth Clamp With Cable
Regulator With Flow Meter
Wire Feeder
| | |
| --- | --- |
| Parameter: | MIG - MAG / ARC 400 AMPS I Moulder IGBT |
| Parameter Model | MIG-400I-3P IGBT |
| Input Voltage (V) | AC415V±15% |
| Frequency (HZ) | 50/60 |
| Rated Input Current (A) MMA/TIG | 14 |
| Output Input Range (A) | 50-400 |
| Output Voltage Adjustment (V) | 31.5 |
| Wire-feeding Speed (m/min) | 3.0-24 |
| Duty Cycle (%) | 60 |
| Type of Wire Feeder | Split |
| Efficiency (%) | 85 |
| Power Factor | 0.93 |
| Insulation Grade | F |
| Housing Protection Grade | IP21 |
| Net Weight (kg) | 36 |
| External Dimension (inch) | 21.5*11* |