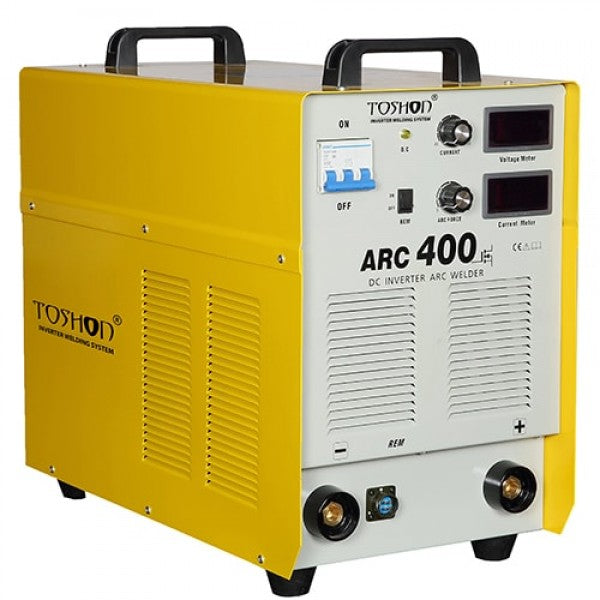 Sale
ARC 400 3 Phase Mosfet
Description
Adapted powerful MOSFET to change the supply frequency (up to 100KHZ), and then to come down the voltage as well as to change the AC current to DC current by the circuit, and eventually to turn out the powerful DC supply under the support of the PWM adjustment technology; in such an inverter design circuit, the weight and volume of the main transformer come down dramatically, and its efficiency is over 30% increased instead.
Features
Auto-Compensation-Function as to the power supply fluctuation, strong adaptability of anti-supply fluctuation, and stable welding current.
Over-Voltage, Over-Current, Over Heat Auto-Protection Functions.
Excellent Arc Force Compensation Function.
Reliable, Light, and Small with High-Efficiency & High Energy Savings
Adaptable to the welding application in different kinds of acid or basic electrodes.
Adaptable to the welding application on different kinds of low carbon steels, medium carbon steels, and alloy steels. 
| | |
| --- | --- |
| Parameter: | ARC 400 AMPS - 3 PHASE MOSFET |
| Input Voltage (V) |   AC415V±15% |
| Frequency (HZ) |   50/60 |
| Rated Input Current (A) |   27.7 |
| No-load Voltage (V) |   68 |
| Output Current Range (A) |   30-400 |
| Input Power Capacity (KVA) |   18.2 |
| Duty Cycle (%) |   60 |
| No-Load Loss (W) |   80 |
| Efficiency (%) |   85 |
| Power Factor |   0.93 |
| Insulation Grade |   F |
| Housing Protection Grade |   IP21 |
| Net Weight (kg) |   26.5 |
| Dimension (inch) |   22.5*12*20 |