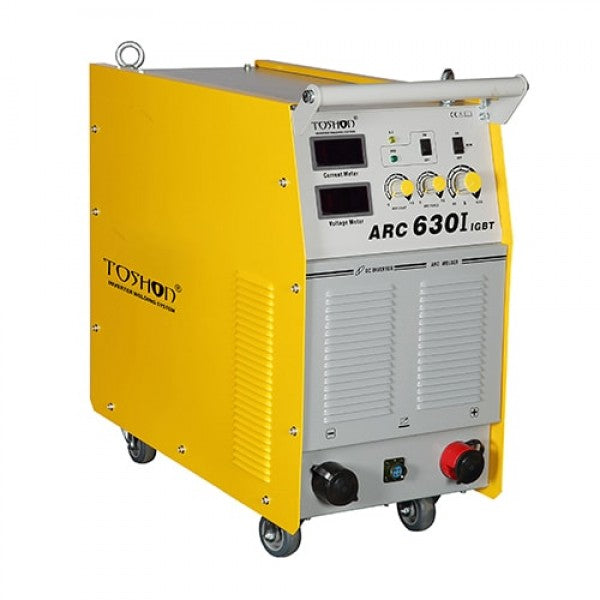 Sale
Description:

TOSHON MAKE THREE PHASE 630 AMPS IGBT TYPE INVERTER BASED ARC WELDING MACHINE
SUITABLE FOR WELDING CARBON STEEL,STAINLESS STEEL,WIDELY APPLICABLE TO PRODUCTION ENTERPRISES,ELECTRIC POWER CONSTRUCTION, PETROCHEMICAL INDUSTRY CONSTRUCTION,PRESSURE VESSEL,SHIP BUILDING ETC
Features:
High Duty Cycle and Powerful Welding Capacity, even maintain a stable welding status under the supply of 100-meter output cable.
Auto-Compensation-Function as to the power supply fluctuation, strong adaptability of anti-power-supply fluctuation and good shape seam; Excellent Anti-Stick Function within the whole current range.
Adaptable in the down-orientation welding with the cellulose electrode; adaptable in the welding application indifferent electrodes, especially good for the different low/ medium steels, low alloy steels, and stainless steel in different kinds of basic electrodes.
ARC5001 and ARC — 6301 bigger models are able to perform the CARBON_GAUGHING FUNCTION.
| | |
| --- | --- |
| Parameter: | ARC 630 AMPS I - Moduler IGBT 3 PHASE |
| Parameter Model |   ARC-630I 3P |
| Input Voltage (V) |   AC415V±15% |
| Frequency (HZ) |   50/60 |
| Rated Input Current (A) |   53.1 |
| No-load Voltage (V) |   85 |
| Output Current Range (A) |   50-630 |
| Input Power Capacity (KVA) |   36 |
| Arc Force (A) |   0-135 |
| Duty Cycle (%) |   60 |
| No-Load Loss (W) |   200 |
| Efficiency (%) |   85 |
| Power Factor |   0.93 |
| Insulation Grade |   F |
| Housing Protection Grade |   IP21 |
| Net Weight (kg) |   54 |
| Dimension (MM) | 760*360*700   |